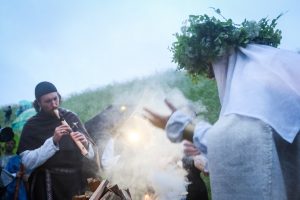 En sēmenjas 27 d. Leītawas sēims tarēi anga prawerru pazinātun be dātun wālstis religgijas stātun pērai "Romuva". 
Pēra "Romuva" ast bilīta per "warābaltan religgija", sta ast ainā iz pīrmans "pagāniska perā".
Grāudu, adder Leītawas sēims stawīdan pazināsnan ni dāi: per pazināsnan tarēi 40 streīpstai, prīki 31, be ni tarēi 15. Pirzdau tarīsnans Wilnis ērstbiskaps peisāwuns pēismen sēimas streīpstamans. 
"Romuva" prasīwusi pazināsnan beggi pragūbi jāu 25 mettai ezze enregistrācijai. Kittan rēizan tenēi wīrst mazīwusis prasītun pazināsnan pa 10 mettans.